Your Easy and Intuitive Online Scheduling Software
Support your office teams with our planning software to organize and monitor work in real time, and with a very few clicks, giving your remote teams direct access to everything they need on their phone.
Planning has never been so easy with Organilog! No more mistakes! In addition to managing your schedules, Organilog is a complete and efficient job management software! Discover all of its features!
Free presentation and trial.
No commitment or card details required 👌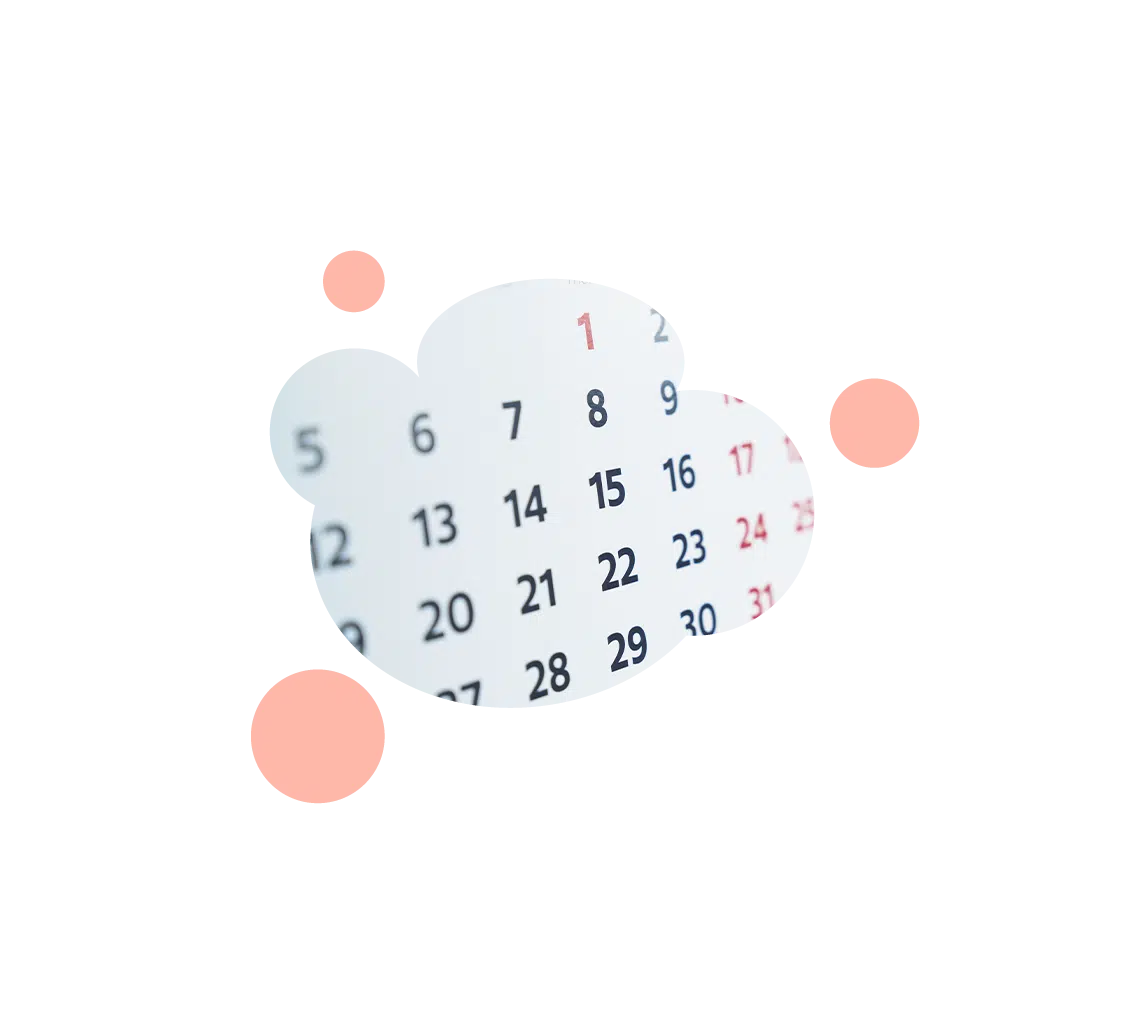 Automate Your Employee Schedules With Our Software
Planning tasks can be a very time-consuming task for your company. With Organilog, you can automatically and immediately see your jobs on the schedule after they are created in the interface.
You can also add jobs, tasks and projects manually and assign them to team members directly on the schedule.
With this planning software, you save precious time, while avoiding costly errors!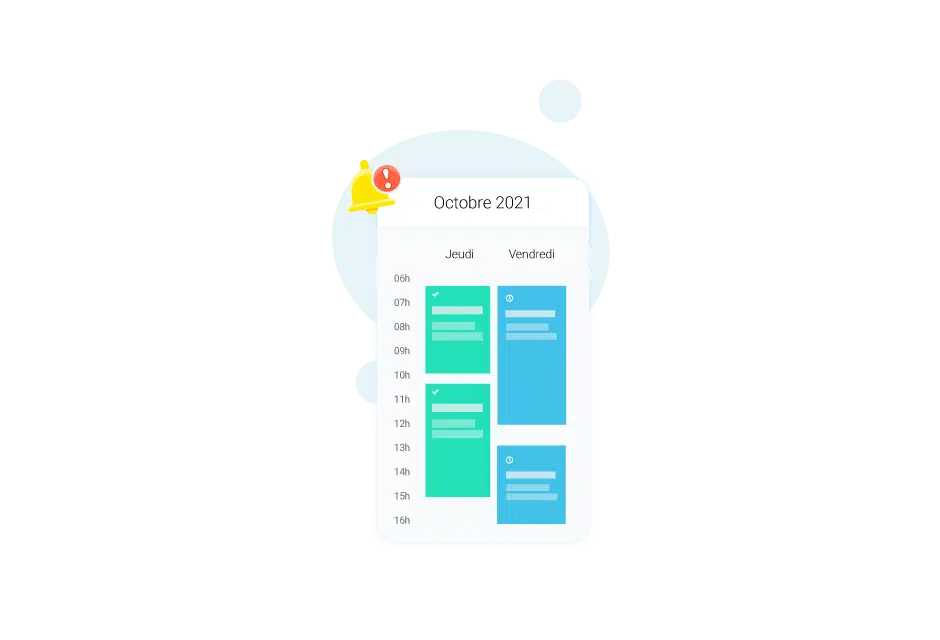 Scheduling Software That Notifies You When Changes Occur in Real Time
Schedule changes or updates? Notify your teams automatically!
Your remote teams access their schedules in real time, directly via their phone or tablet. They are immediately notified when a change occurs in the workday planning!
Changes are instantaneous, and your teams will love it!
Keep a Clear View of Your Field Service Company's Work Schedule
With scheduling software like Organilog, you know exactly who is working, as well as when and where. You have complete control over your organization with an online schedule that adapts to your needs.
The schedule displays:
provisional jobs
planned jobs
executed jobs
You can filter all of these according to your needs.
You can even filter by team, team member, and customer!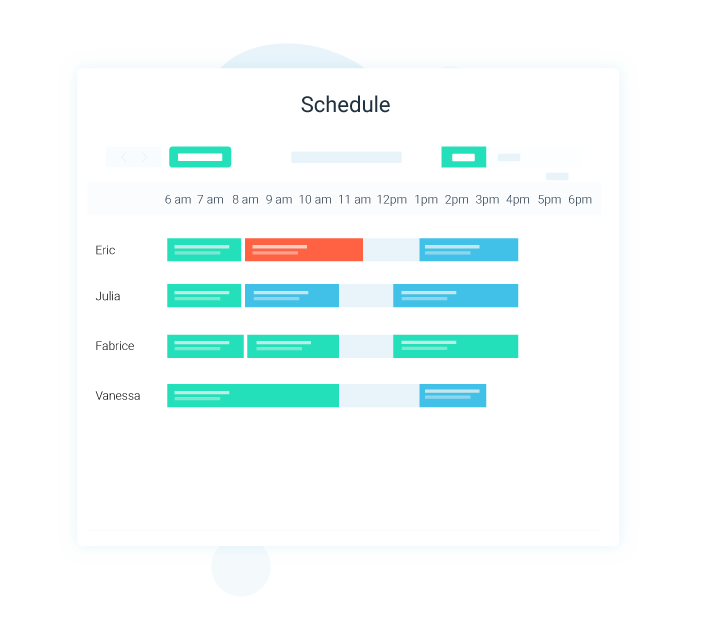 Field Service Software That Manages Absences for Headache Free Planning
Planning jobs on our management tool automatically takes into account your team members' absences. They can notify about absences directly on Organilog as well, facilitating your human resources tasks and collaborative work.
Last-minute absences? Allocate their planned jobs to other colleagues in a few seconds according to their availability displayed in the software, and notify them automatically.
Why Choose Organilog as Your Scheduling Software?
Organilog offers you a set of project and task management solutions within its planning module. We help you to organize your schedules more effectively, and to obtain a better visibility on each of your team members' working days. Ideal for small teams, but also perfect for larger ones, this planning solution comes with all necessary functionalities for the organization of your company.
This planning tool helps you to have a clearer view of your team members' schedules. Our software also saves time and helps you manage your staff and their various tasks.
The schedules are simple, clear and readable compared to spreadsheets in Excel!
You are alerted to staff absences so you can reallocate work to your available staff. Notifications of changes to the schedules are both immediate and automatic.
Companies That
Already Trust Us
Thousands of Professionals Trust Our Product!
Manage your schedule online, optimize your actions and save time !
Our software solution can be adapted to your needs to establish a work schedule for your employees. Setting up activity schedules is simplified. Our main objective is to save you time every day and simplify the management of your work. Creating schedules and making changes to them therefore becomes so much easier with these collaborative tools.
Organilog allows your company to manage its resources completely online. View your site and activity schedules and follow their live progress in a flash.
The online calendar is easy to use. Daily, weekly or monthly planning: choose the display that suits you and optimize your company's management.
Time management software is becoming more and more essential.
It is a way to optimize schedules together and to improve company performance.
Facilitated by this solution, Time and Activity Management (TAM), will now be a considerable asset for HR management along with customer appointment management (monitoring of hours worked, calculation of break times, management of absences from work/leave, etc.).
With a rapid return on investment and ease of use, you will no longer be able to do without the Organilog software package for your schedule management.
Our tool is not limited to planning… it allows you to do much more!
Get a free trial version and discover all our packages and their prices, for optimal management of your company ! Plan your business days with complete peace of mind, and take advantage of all the features of our management software. You won't be able to live without it!
Don't wait any longer and switch to the Organilog solution, one of the best planning software solutions on the market today!
Take advantage of this first-rate planning tool.